ELECTRO-HYDRAULIC LOG GRAPPLE
Anvil Attachments is the premium log grapple when strength and durability are required.
Pressure Compensated Hydraulic System only moves fluid when required
Hydraulic System runs 30% cooler than competitors, eliminating heat issues while increasing the life of hydraulic components
Flow divider is protected from pressure intensification by using an internal relief valve on each cylinder circuit
Tines are 40% stronger than industry standards.
Tines feature AR400 in the wear areas which increases strength and reduces cracking.
Rotation options include 360, 270 and direct mount.
INDUSTRIES
Anvil Attachments Electro-Hydraulic Log Grapples are primarily used in the Wood and Paper industry where an entire truck of logs are unloaded in a single pick. Common sizes for these grapples are from 25 square feet to 70 square feet.
OPTIONS
MATERIAL UPGRADES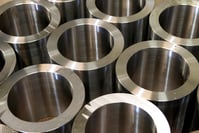 ASTRALLOY PINS AND MANGANESE BUSHINGS
*INCREASE PIN AND BUSHING LIFE UP TO 60% LONGER THAN STANDARD MATERIALS
Astralloy Pins with 11-14% Hadfield Forged Manganese Bushings increases the overall life of the grab components. The lower wear rate will result in having to replace the parts less often. This will also reduce

the stress

cracking due to flexure.
The bushings will survive in harsher environments. A standard 4140 bushing when worn enough can crack in the right scenario, a manganese bushing will not exhibit this weakness.
This upgrade option can increase the life of your parts by up to 50%.
MANGANESE BUSHINGS

Typical Hardness After Work Hardening: 500 Brinell / 52 Rockwell C
Where Used: All rotating points except for sheave bushings
Pros: Will

not

break/crack, extensive wear properties keep this bushing in use far longer than 4140 bushings.

ASTRALLOY

PINS

Yield Strength: 153,000 PSI [1,055 MPa]
Tensile Strength: 175,000 PSI [1,207 MPa]
Hardness: 320-380 Brinell / 34-41 Rockwell C
Where Used: All pins, except sheave pins
Pros: Upgraded steel for pins. Improved strength and wear properties overall compared to 4140
420 STAINLESS STEEL OVERLAYED PINS
Typical Properties:
Hardness: 500+ Brinell / 52+ Rockwell C
Where Used: All pins except sheave pins
Pros: Ultimate steel for pins. Incredibly high strength and wear properties, where these pins combined with manganese bushings can virtually run greaseless.
HARDWARE500 PLATE STEEL
Tradename: "AR500"
Typical Properties:
Yield Strength: 200,000 PSI [1,379 MPa]
Tensile Strength: 225,000 PSI [1,551 MPa]
Hardness: 480-550 Brinell / 50-54 Rockwell C
Where Used: lips, bowl bottoms, sides, wear pads, etc.
Pros: AR500 has the best strength & wear properties when compared to other steels.