EHSG Electro-Hydraulic Grapple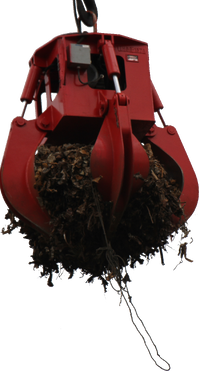 HYDRAULIC CYLINDERS are made to operate at a pressure 5,000 p.s.i. with a test pressure of 5,200 p.s.i. All cylinders have ductile iron piston and glands with wear rings installed
HOSES AND FITTINGS conform to 4-bolt pad SAE-J5188 or SAE straight thread o-ring JIC-37). All hoses are manufactured to an SAE standard and hose couplings are crimp-on type. NPT fittings are not allowed (with the exception of the gauge port).
MOTOR has a service factor of 1.15, 230/460 v/3P/60C/(50C) with 1,800 rpm operating rating.
RETURN FILTERS are 10 microns (max) throw away type with color gauge indicator for visual inspection and are mounted outside of the reservoir for easy removal
DIRECTIONAL CONTROL VALVE is a load sense with 12 or 24-volt coils
HYDRAULIC PUMP Hydraulic pump is a piston type with variable displacement, horsepower limiters, and load sense valve, operating at 3,800 p.s.i. with 2.300 r.p.m. rating
MATERIALS
EHSG Electro-Hydraulic Grapples are designed for scrap operations. With a variety of tine options, other materials may be handled with this grapple such as:
Scrap
Pig iron
Rip rap
Wood chips
INDUSTRIES
EHSG Hydraulic grapples are most commonly used in the scrap industry and with a variety of tine configurations available, they can handle a wide range of materials.
OPTIONS
EHSG Electro-Hydraulic grapples are available with a wide range of tine liner options to fit your individual scrap requirements. The general rule of thumb is the narrower the tine, the better it will penetrate large scrape, the wider tines are used for shred and small scrap. Semi-enclosed is the most popular style and comes standard. Quick connect tines are available allowing for easy changing of tines to suit different materials and sizes.
FOR DETAILED OPTION INFORMATION