H5T Five Tine Hydraulic Scrap Grapple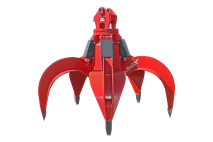 Anvils H5T Five Tine Hydraulic Scrap Grapples are designed for general purpose scrap operations. They are the most robust grapple in the market today.
CYLINDERS
Updated design to increase performance and reliability
Inertia welded rod eye
35% Increased surface area at lower cylinder pin connection
Grease seals added to lower pin connection
Bronze bushing replaces spherical bearing
2 inch cylinder pins with wider bushings and grease seals
Cylinders are over-sized and pressure tested for both high and lower pressure applications
Cylinder covers are standard and protect cylinder hoses against damage
Rod covers protect cylinder rod against damage
ROTATION
Separate components allowing for maximum durability
Bearings have 30% Higher Load Ratings
Motor & swivel features built in cross over relief-prevents damage from pressure spikes
Swivel is rated at 5000 PSI
Upgraded wear-bands for longer life
TIN PIN CONNECTION
Improved design offers 2X longer life
35% Increased surface area at tine pin connection
Sealed connection retains grease
Pins and bushings are over-sized and heat treated for maximum wear life
TINES
Proven modular design to decrease stress while increasing structural integrity
High strength wear resistant alloy steel
In house Finite Element Analysis and 3D design
Tines are T-1 (A514) alloy steel for longer wear life
Tine points are replaceable 400 BHN wear resistant alloy steel
MATERIALS
H5T Five Tine Grapples are designed for general scrap operations. Some other materials handled include:
INDUSTRIES
H5T Five Tine Grapples are most commonly used in the Scrap and Recycling industries, they are most often used with a Material Handler such as a Sennebogen or Liehberr but are also used on excavators. They are often found in industries such as:
Scrap
Construction
Ports & Stevedoreing
OPTIONS
H5T Hydraulic Scrap grapples are available with a wide range of tine liner options to fit your individual scrap requirements. The general rule of thumb is the narrower the tine, the better it will penetrate large scrape, the wider tines are used for shred and small scrap. Semi-enclosed is the most popular style and comes standard.
FOR DETAILED OPTION INFORMATION