RR - Rip Rap Grapple
Anvils RR Rip Rap Grapples are designed for general purpose rip rap handling. They are the most robust grapple in the market today.
Tine points are replaceable weld-on stock parts
Large diameter sheaves for smooth operation and increased cable life
Custom manufactured to handle any size riprap
MATERIALS
RR - RipRap Grapples are designed for general riprap operations. Materials handled include:
INDUSTRIES
RR - RipRap Grapples are most commonly used anywhere riprap needs to be handled. They are often found in industries such as:
Marine Construction
Dredging
Ports & Stevedoring
OPTIONS
MATERIAL UPGRADES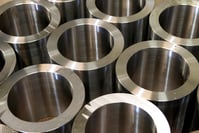 ASTRALLOY PINS AND MANGANESE BUSHINGS
Astralloy Pins with 11-14% Hadfield Forged Manganese Bushings increases the overall life of the grab components. The lower wear rate will result in having to replace the parts less often. This will also reduce

the stress

cracking due to flexure.
The bushings will survive in harsher environments. A standard 4140 bushing when worn enough can crack in the right scenario, a manganese bushing will not exhibit this weakness.
This upgrade option can increase the life of your parts by up to 50%.
MANGANESE BUSHINGS

Typical Hardness After Work Hardening: 500 Brinell / 52 Rockwell C
Where Used: All rotating points except for sheave bushings
Pros: Will

not

break/crack, extensive wear properties keep this bushing in use far longer than 4140 bushings.

ASTRALLOY

PINS

Yield Strength: 153,000 PSI [1,055 MPa]
Tensile Strength: 175,000 PSI [1,207 MPa]
Hardness: 320-380 Brinell / 34-41 Rockwell C
Where Used: All pins, except sheave pins
Pros: Upgraded steel for pins. Improved strength and wear properties overall compared to 4140
CONTACT YOUR TERRITORY MANAGER FOR MORE INFORMATION ON RIPRAP GRAPPLES