SEMI BLADE tines are the most popular tine style. This design is used for general scrap handling and provide a good mix of scrap penetration and ability to grab a wide range of scrap sizes.
NARROW BLADE tines are used when handling large scrap pieces. The narrow blade design allows for superior penetration of the material.
LOWER 1/3 ENCLOSED tines are good for handling smaller pieces of scrap or finer materials while maintaining a lower grapple weight and maximizing the capacity of fine materials which can be handled by the grapple.
LOWER ½ ENCLOSED tines are similar to the lower third enclosed, except the liners are enclosed for half of the way along the tine. This increases the grapple weight more than the lower third enclosed liners.
FULLY ENCLOSED tines are used when handling small pieces of shred scrap or other loose material. A fully enclosed grapple allows the grapple to be used as a bucket. They are like the lower third and lower half but fully enclose the entire tine. This increases the weight even further past the lower half enclosed liners.
MATERIAL UPGRADES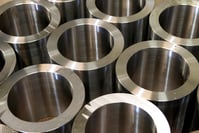 ASTRALLOY PINS AND MANGANESE BUSHINGS
*INCREASE PIN AND BUSHING LIFE UP TO 60% LONGER THAN STANDARD MATERIALS
Astralloy Pins with 11-14% Hadfield Forged Manganese Bushings increases the overall life of the grab components. The lower wear rate will result in having to replace the parts less often. This will also reduce

the stress

cracking due to flexure.
The bushings will survive in harsher environments. A standard 4140 bushing when worn enough can crack in the right scenario, a manganese bushing will not exhibit this weakness.
This upgrade option can increase the life of your parts by up to 50%.
MANGANESE BUSHINGS

Typical Hardness After Work Hardening: 500 Brinell / 52 Rockwell C
Where Used: All rotating points except for sheave bushings
Pros: Will

not

break/crack, extensive wear properties keep this bushing in use far longer than 4140 bushings.

ASTRALLOY

PINS

Yield Strength: 153,000 PSI [1,055 MPa]
Tensile Strength: 175,000 PSI [1,207 MPa]
Hardness: 320-380 Brinell / 34-41 Rockwell C
Where Used: All pins, except sheave pins
Pros: Upgraded steel for pins. Improved strength and wear properties overall compared to 4140
420 STAINLESS STEEL OVERLAYED PINS
Typical Properties:
Hardness: 500+ Brinell / 52+ Rockwell C
Where Used: All pins except sheave pins
Pros: Ultimate steel for pins. Incredibly high strength and wear properties, where these pins combined with manganese bushings can virtually run greaseless.
HARDWARE500 PLATE STEEL
Tradename: "AR500"
Typical Properties:
Yield Strength: 200,000 PSI [1,379 MPa]
Tensile Strength: 225,000 PSI [1,551 MPa]
Hardness: 480-550 Brinell / 50-54 Rockwell C
Where Used: lips, bowl bottoms, sides, wear pads, etc.
Pros: AR500 has the best strength & wear properties when compared to other steels.