GS General Scrap Grapple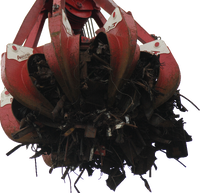 Sheave dia./Cable dia. Ratio 30:1

Sheaves w/ hardened grooves riding on bronze bushings for longer life.

Closed guarding of cable to exclude scrap from going in sheave pocket

Dead end on lower sheave block for easy access.

Grease lines run inside the channel on arms to upper extremities.
MATERIALS
GS General Scrap Grapples are used to load/unload ships and barges of scrap. They are designed for four rope cranes. GS Grapples can also handle:
Scrap
Rip Rip
Pig Iron
Stone
Wood Chips
INDUSTRIES
GS General Scrap Grapples are most commonly used in the Ports and Stevedoring industries. They are also used in:
Scrap

Wood/Paper

Marine Construction

Construction

Ports

Stevedoring
OPTIONS
GS General Scrap Grapples are available with a wide range of tine liner options to fit your individual waste requirements. The general rule of thumb is the narrower the tine, the better it will penetrate large scrape, the wider tines are used for shred and small scrap. Semi-enclosed is the most popular style and comes standard. Quick connect tines are available allowing for easy changing of tines to suit different materials and sizes.
FOR DETAILED OPTION INFORMATION