CLUSTER SHEAVES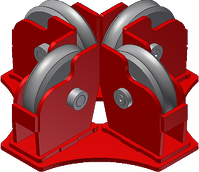 Anvil's patented (Patent No. 7,607,643) Cluster Sheave assembly extends cable life up to four times over traditional fairlead designs. This saves on cost of labor and material when having to frequently change damaged cable.
Traditional fairlead designs force a round cable through a square hole, while Anvil's Cluster Sheave design increases cable life by running the cable through four sheaves on bearings allowing smooth cable operation.
Download Anvil's Cluster Sheave information page here:
BOLT-ON EDGES
Bolt-on edges are used on buckets to protect the bowl lips from wear and are the most popular type of edge sold. The edges are a proprietary cast material to the equivalent of AR400 alloy steel, are pre-drilled, and come in various thicknesses and lengths. Edges are stocked and cut to required length when ordered.
A quality feature of the edges is that they are reversible. Therefore, when one side has worn down, it can be unbolted, flipped over, and used on the other side. When the reverse side is worn, a new bolt-on set is needed.
Stover lock nuts are used to secure the edges because they have proven to be the most secure and reliable. It is recommended that once the bolts are unbolted, a new set of nuts is needed.
BOLT-ON SEALED LIP
Anvil's Patented Bolt-On Sealed Lips (Patent No. 9,388,023) are used when the customer will be handling small/fine materials in which the customer does not want leaking from the bucket alongside tougher, rough materials that could cause a lot of wear on the lips. Anvil's bolt-on sealed lips are interchangeable with the bolt-on edges. This gives the customer flexibility to use the bucket in various types of material. Anvil offers two types of rubber gasket for the sealed lip depending on the material being handled.
RADIUS CORNERS
Radius corners help minimize damage to the hull of ships and barges. These corners provide a smooth transition on the corner of the bucket.
BOLT ON COVERS / ENVIRONMENTAL COVERS
Bolt on covers are sometimes referred to as environmental covers. These covers are used when handling dusty materials which should not be released into the environment. They further close in the top of the bucket to help keep dust contained.
MATERIAL UPGRADES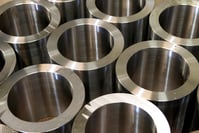 ASTRALLOY PINS AND MANGANESE BUSHINGS
*INCREASE PIN AND BUSHING LIFE UP TO 60% LONGER THAN STANDARD MATERIALS
Astralloy Pins with 11-14% Hadfield Forged Manganese Bushings increases the overall life of the grab components. The lower wear rate will result in having to replace the parts less often. This will also reduce

the stress

cracking due to flexure.
The bushings will survive in harsher environments. A standard 4140 bushing when worn enough can crack in the right scenario, a manganese bushing will not exhibit this weakness.
This upgrade option can increase the life of your parts by up to 50%.
MANGANESE BUSHINGS

Typical Hardness After Work Hardening: 500 Brinell / 52 Rockwell C
Where Used: All rotating points except for sheave bushings
Pros: Will

not

break/crack, extensive wear properties keep this bushing in use far longer than 4140 bushings.

ASTRALLOY

PINS

Yield Strength: 153,000 PSI [1,055 MPa]
Tensile Strength: 175,000 PSI [1,207 MPa]
Hardness: 320-380 Brinell / 34-41 Rockwell C
Where Used: All pins, except sheave pins
Pros: Upgraded steel for pins. Improved strength and wear properties overall compared to 4140
*NOT AVAILABLE FOR SHEAVE PINS DUE TO HIGH SPEEDS
420 STAINLESS STEEL OVERLAYED PINS
Typical Properties:
Hardness: 500+ Brinell / 52+ Rockwell C
Where Used: All pins except sheave pins
Pros: Ultimate steel for pins. Incredibly high strength and wear properties, where these pins combined with manganese bushings can virtually run greaseless.
*NOT AVAILABLE FOR SHEAVE PINS DUE TO HIGH SPEEDS
HARDWARE500 PLATE STEEL
Tradename: "AR500"
Typical Properties:
Yield Strength: 200,000 PSI [1,379 MPa]
Tensile Strength: 225,000 PSI [1,551 MPa]
Hardness: 480-550 Brinell / 50-54 Rockwell C
Where Used: lips, bowl bottoms, sides, wear pads, etc.
Pros: AR500 has the best strength & wear properties when compared to other steels.